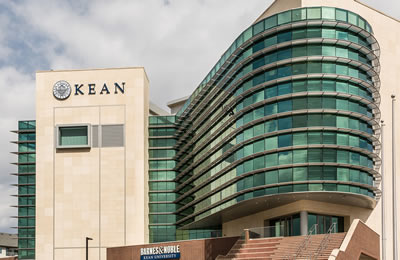 Kean University is the perfect location for studio2stage, the 120 acre campus has some amazing facilities including the well appointed and spacious rehearsal studios at the Harwood Arena building and the modern 900 seat Wilkins Theatre where the studio2stage show is staged. The university is located 12 miles west of New York City in Union, New Jersey. The New Jersey Union train station is directly adjacent to the campus with connection directly into NY Penn Station. Newark International airport is just 10 minutes from Kean University and the campus is close to major highways.
The dance rehearsals will be held each day at the rehearsal studios in the Harwood Arena building and the music rehearsals will be held each day at the Wilkins theatre rehearsal studios.
The Shows: "That's Dancing"
"Thats Dancing" the studio2stage show performances will be on on stage in Wilkins Theatre which is located on the campus at Kean University on August 5th 2018 featuring the cast of musicians and dancers. There are two performances scheduled.
Sunday 5 August at 2:00pm:
This first performance is a matinee show, a special preview performance of "That's Dancing". Matinee tickets are at a reduced rate of $20 and the matinee show is principally for large groups with a special group offer on tickets of one free ticket with ten on a group booking. Ticket sales for the matinee are handled directly through studio2stage, contact
This email address is being protected from spambots. You need JavaScript enabled to view it.
.
For dance schools making group bookings, the one with ten offer on group bookings will apply and one student nominated from the group will be invited to attend studio2stage for the morning session of Wednesday 1st August to watch the dance choreographers working with the cast, to learn what goes on behind the scenes at studio2stage and to enjoy lunch with the cast and the faculty of studio2stage. If you think your school principal would like to attend the matinee with your group, please pass this information on or contact us at
This email address is being protected from spambots. You need JavaScript enabled to view it.
for more information.
Sunday 5 August at 7:00pm: This second performance is the featured evening performance and tickets are on sale now from the Kean Stage Box Office website
Box Office:
"Thats Dancing" show tickets are available from the
Kean Stage
box office.
Residence Halls
The studio2stage cast will be housed in the modern apartment buildings on the University campus and each two bedroom apartment houses four. The bedrooms contain two beds, two wardrobes, two work desks, a refrigerator and microwave. The laundry facilities are on the ground floor along with community rooms with TV and vending machines. Separate floors for male and female, security personnel and an SA on duty at all times. There are three restaurants, a starbucks and a convenience store on the campus.
Dining
Full catering is provided on campus at the main dining hall, water-coolers are provided at all of the rehearsal studios and the theatre.